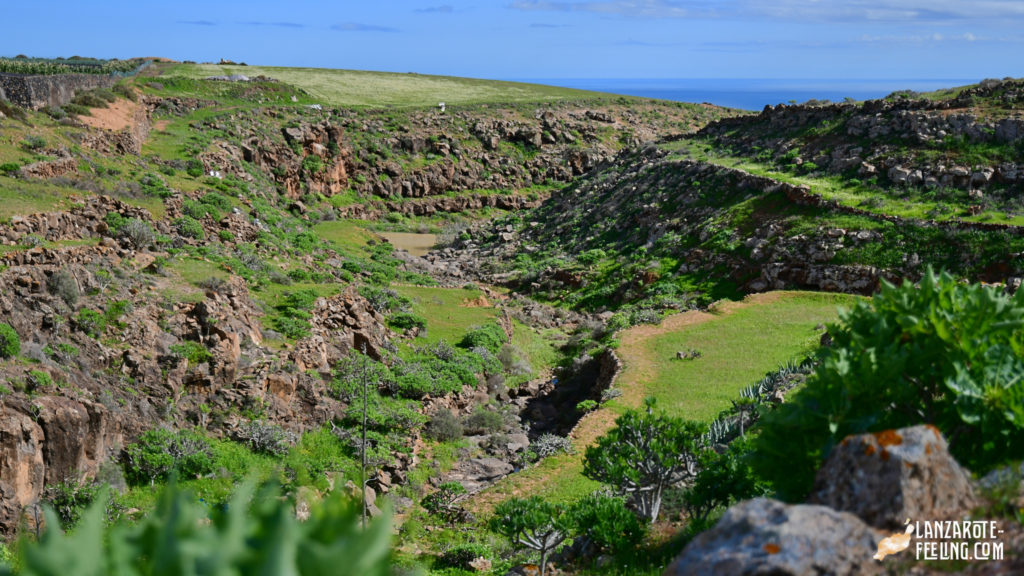 We walk from El Mojon, the eponymous notch valley (Barranco Mojon) to the south, where we enter the Barranco Teguereste.
This spectacular barranco (notch valley/canyon) offers us different views of an interesting dried up riverbed, which only has water for a few weeks (or days) a year. The erosion caused by the flowing water, as well as by the debris, sand and stones that have been carried along, leave different structures depending on the surrounding material, and we can also see that man has left his mark here in an attempt to channel the water.
Due to the fact that in this barranco more humidity is collected and kept, we also find (depending on the season) a surprising amount of vegetation.
Of course, on this – as on all other excursions – you will receive comprehensive and entertaining information about history, geology and flora and fauna.
An absolute pleasure hike – Lanzarote feeling at its best.
Total duration: approx. 4 hours
Net walking time: 2 hours
Distance: 6,5km
Terrain: 3/5 you should be able to walk stable on uneven ground
Difficulty: 2/5
Meeting point: Guatiza gas station
Price: € 45,– p.p.
Category: Hiking / moderate