Amazing excursion into a Jameo (lava-tube) in the eastern part of Timanfaya.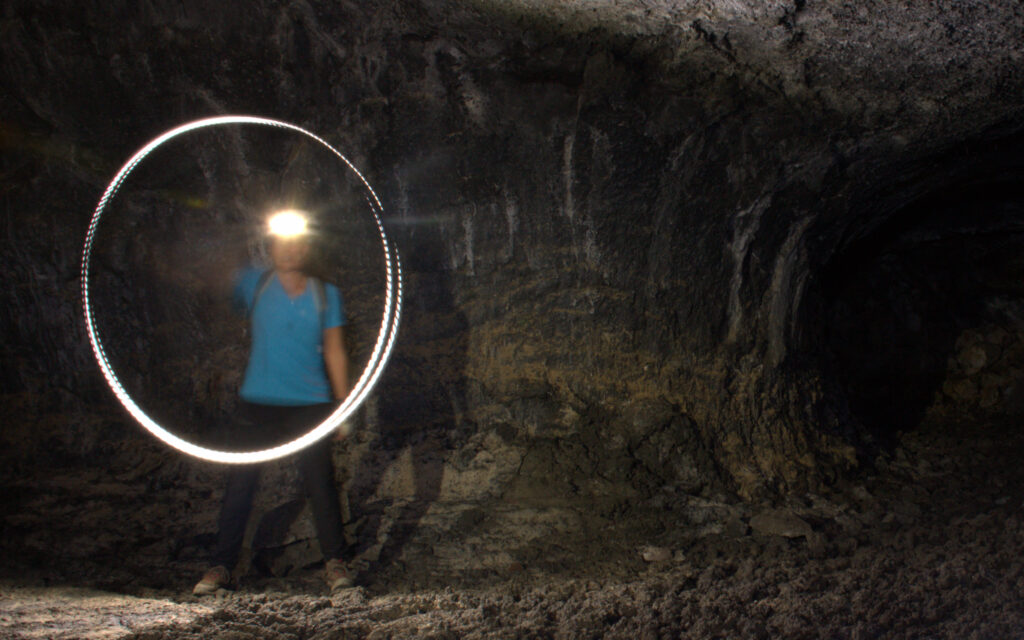 With helmet and headlamp we enter a lava tunnel of the volcano Nueces, that was originated in March 1736 as the penultimate volcano in the big series of volcanic eruptions in the 18th century. We walk, and/or climb, partly through an approximately 550m long section of this tunnel.
This world without (natural) light, in the lap of lava will offer you an unforgettable experience – pure "Lanzarote-Feeling".

This excursion is a very nice and relatively easy caving tour in the eastern Timanfaya area. Contrary to other caves in Lanzarote, this small excursion is also possible for people who do not like the extreme tours. Most of the Jameo has a stable and relatively flat floor, so that only at the entrance and exit (and once in between) some climbing is necessary.
A dream for every hobby geologist. Lanzarote-Feeling at it's best.
Also those who can claim to have already learned, hiked and seen a lot about the fascinating world of the volcanoes in Lanzarote will surely experience something completely new and absolutely spectacular here.
Total duration: almost 2 hours incl. breaks
Net walking time: almost one and a half hours underground
Distance: about 1 km, of which about 600m underground
Terrain: 2 of 5 underground – with helmet and headlamp, sometimes climbing over rocks and scree; fear of heights or claustrophobia should not necessarily be an issue, but let us know in advance so that we can take it into account. You must be able to walk stably on uneven ground!
Difficulty: 3 of 5
Price: 28,00 € per person
Pick up at extra charge. Equipment: Helmet + headlamp (can be rented from us for a fee of 8,00€)
Sturdy shoes/closed shoes, sufficient water (approx. 1 l per person)
Refreshment possible afterwards – participation is optional.

Meeting point: Church in Masdache