From Guinate we ascend to Jorao and 'Balcon', and the the two volcanic calderas of "Quemada" and "Los Helechos"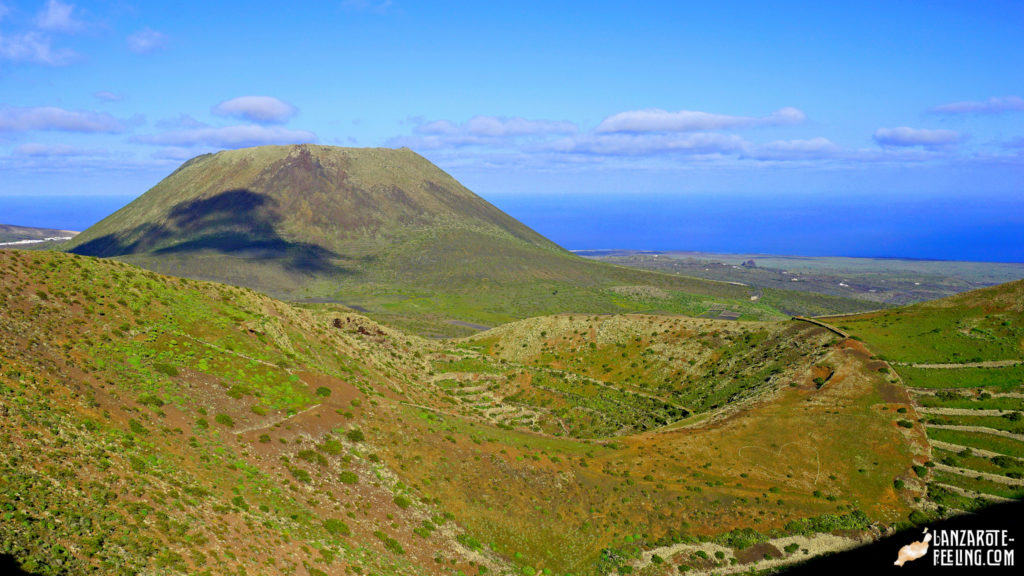 Starting near the small village of Guinate, we first walk through a cultivated area towards the fascinating cliffs of Jorao. After a short but steep climb we are rewarded with a fantastic view over the sea to the Archepilago de Chinijo (La Graciosa, Montaña Clara and Alegranza). These spectacular views accompany us for a while, until we descend again to a very special place, which is ideal for a short rest. From there we climb up again to the summits of the old volcanoes "Quemada de Maguez" and "Los Helechos".
Climbing the top of these two volcanoes will surely be a highlight, of your holidays.
Especially during the winter months, Lanzarote might show itself from a completely different side than what one is used to or what you might expect: Flowers, meadows, a big variety of small plants and tender green as far as the eye can see.
But even without this special spectacle, this slightly exhausting hiking tour is something very special. The views over to Monte Corona and up to the Mirador del Rio or down to Arrieta is amazing.
As always, this tour is full of information about flora, fauna and history and of course in the context of the whole island. Lanzarote-Feeling at it's best!
total duration: ~4 hours incl. breaks
net walking time: 2 Std. 20′
distance: 6.5 km
terrain: 3/5 you should be able to walk in a stable manner on uneven ground paths with scree and loose stones
difficulty: 3/5 a steep ascend in the beginning
meeting-point: Arrieta gas-station
price: € 45,– per person
Similar (and easier) hiking excursions – especially recommended if you have a fear of heights: Guinate Camino Gayo
Arrival with your own or rented car – pick up for an extra charge.
Refreshment possible afterwards – participation is optional.
You should have the following with you: Sun protection, sufficient water (approx. 1 l per person), snack, a light jacket – if it gets windy, photo equipment, sturdy shoes/closed shoes
Please note: there is no possibility to buy drinks or snacks on the way.
comment: There are 5 variations of this tour. It can be altered to suit your abilities.