From Guinate the "Camino Gayo" up to the Balcon and over the volcanoes "Quemada" and "Los Helechos" back.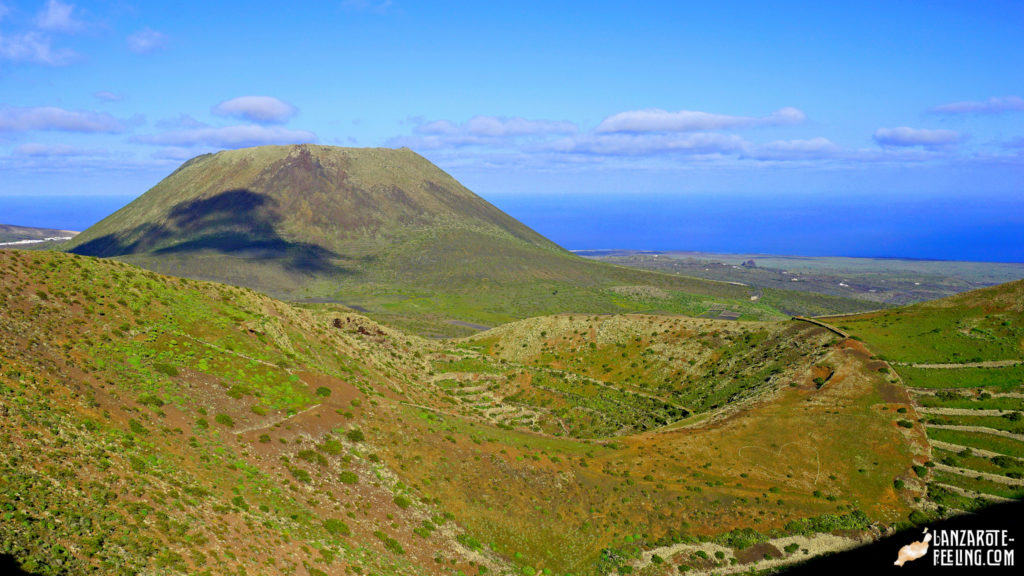 We start at the outskirts of Guinate on a non-asphalted road with moderate climbs. This "Camino Gayo" (also called Guinate High Trail) offers us a wonderful view of the Valle de Guinate and also of the offshore islands of the Archipiélago Chinijo.
In the winter months, this hike has its special charm due to the green meadows and the splendor of flowers that can be found here.
We leave the road and take a small path to reach our first rest stop with fantastic views of the cliffs of Famara and the sea below.
Freshly strengthened, we continue uphill to the top of the "Quemada de Maguez", one of the few places on Lanzarote from which you can see the sea on both sides of the island.
From here it is only a stone's throw over the crater rim to the summit of "Los Helechos", from where we can also enjoy an impressive view.
For the following way back we descend on small paths to La Torre and finally we reach again the Camino Gayo, which brings us the last meters back to the starting point.
Note: this tour is not suitable for people with a fear of heights – but can be presented in a modified form on request, so that people with a fear of heights can also take part.
Total duration: 4 hours
Net walking time: 2 hours 30
Distance: 6,5km
Terrain: 2/5 you should be able to walk steadily on uneven ground
Difficulty: 2/5
Meeting point: gas station Arrieta
Price: € 45,– p.p.
Category: Hike / moderately difficult
Arrival with your own or rented car – pick up for an extra charge.
Refreshment possible afterwards – participation is optional.
You should have the following with you: Sun protection, sufficient water (approx. 1 l per person), snack, a light jacket – if it gets windy, photo equipment, sturdy shoes/closed shoes
Please note: there is no possibility to buy drinks or snacks on the way.