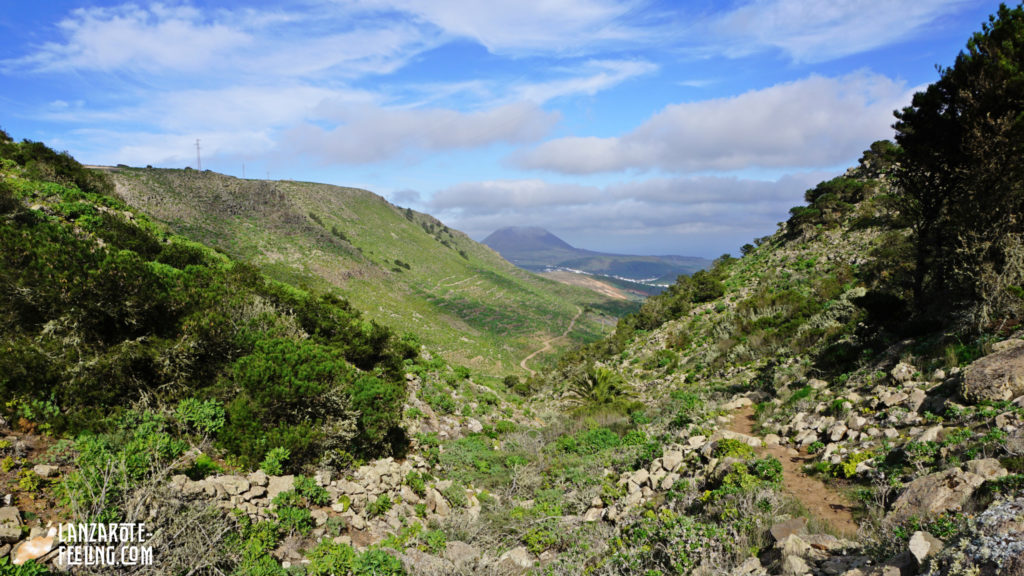 We hike from Haria upwards through the Valle Malpaso to the little forest (El Bosquecillo) and then down through the Barranco Elvira Sanchez back to Haria
Apart from the fantastic views during the ascent and also from the grove (whose characteristics are explained on this excursion), the special attraction of this hike lies for us in the descent through the Barranco Elvira Sanchez. At first we are in a valley that also reminds us of alpine areas because of its rocks and vegetation, which we would never have expected to find on Lanzarote. In the further course we follow a creek bed whose lush flora is impressive even in summer and gives us a whole new picture of Lanzarote.
We have fantastic views to the south (Arrieta, Punta Mujeres) as well as to the Atlantic Ocean 600m below our feet with the bay of Famara.
Total walking time: 4.5 hours
Net walking time: 2 hrs 30′.
Distance: 8km
Terrain: 3/5 you should be able to walk stably on uneven ground
Difficulty: 3/5
Meeting point: will be arranged indiviually
Price: € 45,– p.p.
Category: Hike / moderate
Comment: This hike is more strenuous than the equally long small variant because of the steep climbs in the first third.
Arrival with your own or rented car – pick up for an extra charge.
Refreshment possible afterwards – participation is optional.
You should have the following with you: Sun protection, sufficient water (approx. 1 l per person), snack, a light jacket – if it gets windy, photo equipment, sturdy shoes/closed shoes
Please note: there is no possibility to buy drinks or snacks on the way.