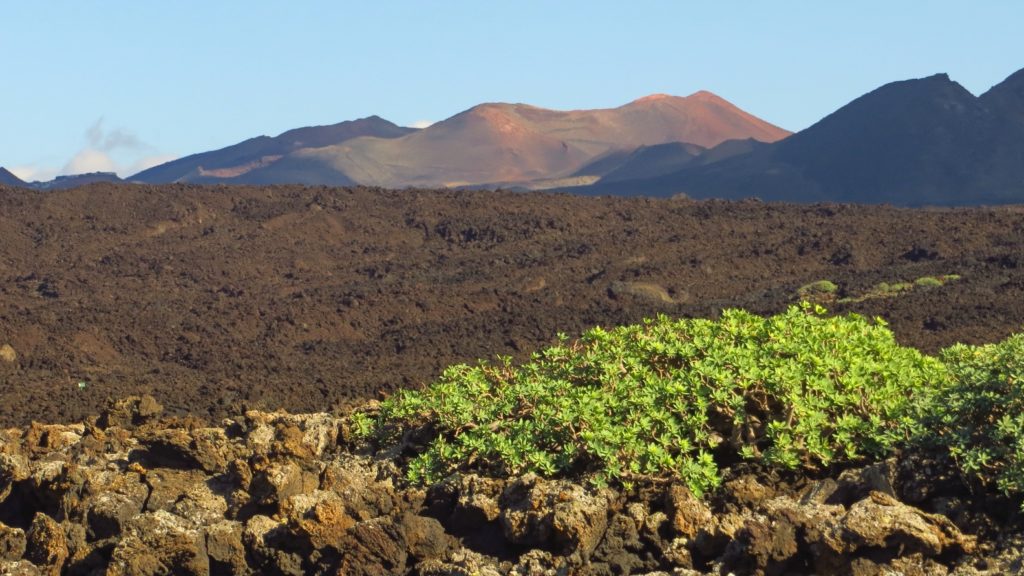 This very beautiful coastal hike takes us from El Golfo along the sea to Playa del Paso – a small, dark sandy beach in the national park.
The first section is a fantastic hike by the sea with fresh breezes and the very photogenic contrast between black lava, the blue sea and the white spray. We must point out, however, that this trail in the national park is mostly on lava gravel. So you should be able to walk safely on uneven ground.
We see different types of lava and get detailed information about the history of its formation and the few plants that could develop in this – at first sight – hostile environment.
After about 3km we reach the small, almost black sandy beach and take a bigger break, where (depending on the current and swell) we can also swim.
The way back is inland on a dirt road, which is easier to walk than the way there. Here we are in the first half still in the National Park Timanfaya and are rewarded with very special insights, such as the old volcano "Halcones" the bright, ocher-yellow from the black lava rises.
After a little more than 6 km we take another big break with a last view of Timanfaya and Halcones, before turning west and returning to the starting point on a small path, but good to walk.
Total time: 4 hrs.
Net walking time: 2 h 30 min.
Distance: about 9 km
Terrain: 3/5 you should be able to walk very well on uneven ground
Difficulty: 2/5
Meeting point: End of El Golfo – playground
Price: € 45,– p.p.
Arrival with your own or rented car – pick up for an extra charge.
Refreshment possible afterwards – participation is optional.
You should have the following with you: Sun protection, sufficient water (approx. 1 l per person), snack, a light jacket – if it gets windy, photo equipment, sturdy shoes/closed shoes
Please note: there is no possibility to buy drinks or snacks on the way.