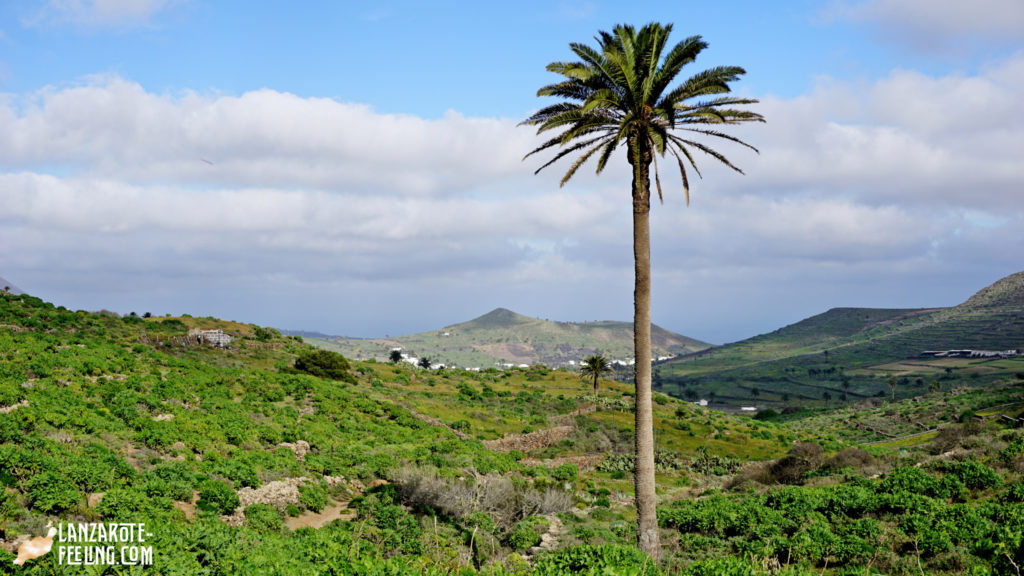 We hike from Haria through the Barranco Ternesia up to the Degollada el Rincon and then through the lower part of Barranco Elvira Sanchez back to Haria
After a short and very moderate climb through the Barranco Ternesia we reach after approx. 45 min. the "Degollada el Rincon". Here we take a break, enjoy the view of the bay of Famara and get some information about the characteristics of this beautiful area.

The road continues more or less flat and we see the valley of the 1000 palms from more and more new perspectives. Even if on the way back we only walk through the lower part of the Barranco Elvia Sanchez we find ourselves in a stream bed, whose lush flora is impressive even in summer and gives us a whole new image of Lanzarote.
Total time: 4 hours
Net walking time: 2 hrs.
Distance: 7km
Terrain: 2/5 you should be able to walk stably on uneven ground
Difficulty: 2/5
Arrival with your own or rented car – pick up for an extra charge.
Refreshment possible afterwards – participation is optional.
You should have the following with you: Sun protection, sufficient water (approx. 1 l per person), snack, a light jacket – if it gets windy, photo equipment, sturdy shoes/closed shoes
Please note: there is no possibility to buy drinks or snacks on the way.
Meeting point: will be arranged individually
Price: € 45,– p.p.
Category: Hiking / easy