Easy hike in the northern part of the island with fantastic views into the surrounding valleys and far over the sea.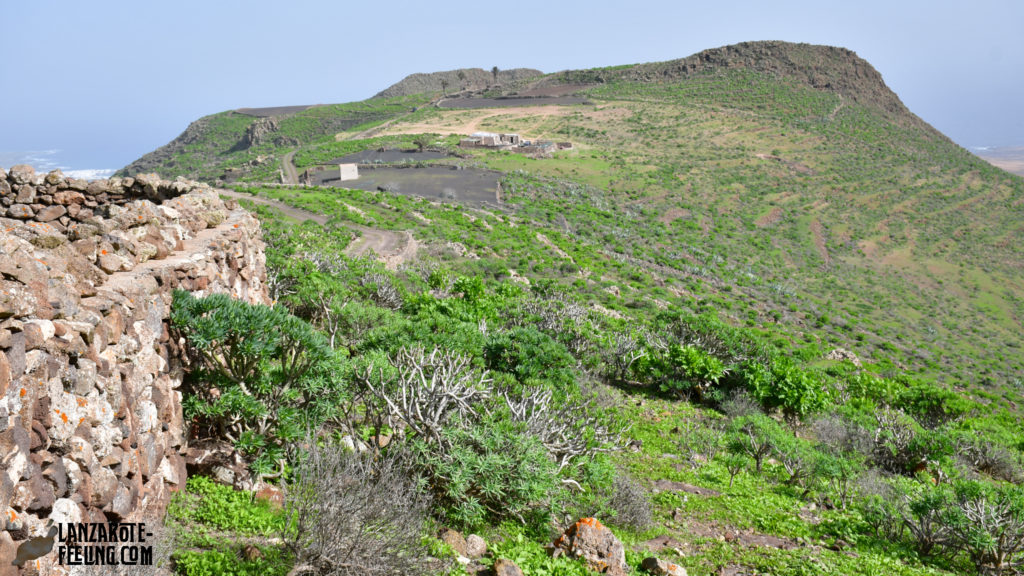 The Peña de la Pequeña is a natural "viewing platform" with many wonderful perspectives in the northern part of the island.
We start our hike near the road (LZ10) that connects Haría and Los Valles and walk on the wide lane first slightly downhill to the saddle that runs between the Valle de Temisa and the Valle del Palomo in eastern direction. Then we continue flatly towards the east, always with a view of the valleys and the small rocky peak of Peña de la Pequeña in front of us. We hike past this rock formation on a slightly ascending path until we reach the end of the route with a view of the villages of the northern east coast and after a long rest, we start our way back.
Depending on the season, lush vegetation can await us along the entire route. You will learn interesting details about the flora and fauna, the formation of the island and other special features.
This easy hike is relatively new in our program and we are happy to show it to you. The Lanzarote feeling can be felt here in a special way.
Length: approx. 4,5 km
Duration: approx. 3.5 hours incl. breaks
Difficulty: 2 of 5 moderately difficult
Terrain: 2 out of 5 – you should be able to walk steadily on uneven ground.
Meeting point: parking lot restaurant Mirador Los Valles
Price: 33,00 € per person
Arrival with your own or rented car – pick up for an extra charge.
Refreshment possible afterwards – participation is optional.
You should have the following with you: Sun protection, sufficient water (approx. 1 l per person), snack, a light jacket – if it gets windy, photo equipment, sturdy shoes/closed shoes
Please note: there is no possibility to buy drinks or snacks on the way.